Easter in Sydney is a hopping good time.
In between the family commitments and everything else we've put off till the long weekend, the extra two days off over Easter does afford us the time to kick back and relax, plan a special day or night out as well as go on an adventure or two if we so choose. (Featured image:@realmat)
So, if you're staying in Sydney this Easter long weekend and you're looking for something to do, which isn't the Sydney Royal Easter Show, then take a look at these plans below to take advantage of the fabulous four days of freedom.
From visits to vineyards and cellar doors to special dinners with shows and bottomless feasts, there's something for everyone.
Bottomless
Beast & Co, the new Euro-style bar and restaurant serving up hearty dishes inspired by the owner's two Czech grandmothers in the heart of Surry Hills, is inviting you to try their six-course bottomless summer brunch offering.
Reserved for a minimum of two people, this free-flowing brunch begins with a sharing menu of baked pumpkin almond puree, roasted cabbage, beef tartare and chicken liver pate served with bread basket before each person gets a choice of the main meal from crackling pork belly, twice-cooked chicken breast or the farmer's pick of the day.
To wash down all the delicious food, you'll get two-whole hours of Bellinis, house wines and beers and ciders too.
Don't miss out on one of Surry Hill's newest restaurant openings andgrab your Easter spot at this bottomless brunch now.
Step into Binky & Co, the cute and cosy corner cafe taking their decorative inspiration from provincial France, for a very special Bottomless Sparkling High Tea where you and your friends can live your best life and eat petit fours, just like the Queen herself.
This majestic three-tier high tea will also serve an assortment of tea sandwiches, scones and petit fours—the small bite-sized confectionery or savoury appetizers—and, of course, your choice of tea or coffee as well as free-flowing sparkling wine for an hour.
Treat yourself like the queen you are and sit down to sparkling.
See Also: 8 Boozy Bottomless Brunches To Choose From Because You Obviously Deserve It
Day Trips
The Southern Highlands is home to quaint country towns and villages with plenty of charm as well as The Mill Courtyard, Bowral's artfully restored communal hub and the location of Tractorless Vineyard's newly opened Cellar Door.
Be entertained and guided through a tasting experience featuring their award-winning wines, beers and ciders or head along for their smoked meats. All of their products showcase the sustainable food practices in place and the quality of the locally sourced, foraged, grown and produced foods on display.
Once you're done, explore the rest of The Mill Courtyard and taste the other food available. There's gelato too.
Reserve your samples for Easter, today.
Skip the Cellar Door and head straight to Tractorless Vineyard for this winery tour and wine tasting experience unlike many others.
At Tractorless Vineyard they believe that the entire process surrounding the farm needs to be treated holistically, right from the soils to the animals to the business ethos. Subsequently, they have embraced the combination of old world knowledge and skills with new world techniques to produce quality in a more environmentally friendly way, which they're so very keen on showing you.
On this winery tour, you will also taste a selection of award-winning eco wines, enjoy a grazing board with a selection of delicious local foods including their 100% grass-fed lamb, and you will get the chance to meet the woolly workers themselves.
This Easter it's time to visit an amazing biodynamic, sustainable vineyard and possibly the future of wine production.
Indulge in food and wine in one of Australia's premier wine regions with this unique tour of the Hunter Valley.
Save yourself the drive and be transported to the gorgeous valley region where you will visit three Cellar Doors to sample some of the best boutique wines available. You will also be treated to cheese and chocolate because wine is like a good relationship—paired to perfection. Stop off for lunch in the stunning and award-winning Hunter Valley Gardens renowned for its artistry and themed gardens including the Rose Garden featuring more than 6000 roses.
Sign yourself up to this awesome wine experience now.
Dinner and a show
Sydney's premier venue for burlesque, cabaret and comedy has been combining risqué vintage glamour with dinner and a show to transport audiences to another time and place since 2016. And their current show, The Night Cap, is no different except that it might be one of their best yet.
Guests on this vaudevillian spectacle will be treated to stand-up comedy, choreographed dancing, live-singing and circus performances as well as the ooh la la burlesque acts that we're sure will add a hint of excitement and have you asking if this drink really will be the last for the night.
 Grab the full experience with a two-course dinner and set yourself up for a mischevious night.
On Sundays at Mama Saan in Bondi, the live jazz selection is curated by Aria-award-winning legend and musician Jonathan Zwartz so you just know that you're in for an exceptional selection of music to soundtrack your dinner.
The set five-course sharing menu comes with sashimi tacos and crispy fried chilli chicken as well as your choice of wine of either Paulett Rieslin, Debussy Reverie or El Desperado. For vegetarians,  a six-course sharing menu has been created featuring instead dengaku eggplant, karage cauliflower and a wild mama mushroom mix.
Hop along to Mama Saan this Easter and bop to jazz on Sunday.
Dinner
We've all heard of Taco Tuesdays, but it seems that the Royal Paddo has decided to buck tradition and treat us to a Thursday night special of tacos and Margaritas.
For just $40, you will get four tacos from the special Thursday taco menu—weekly specials are created by the chef and may include a Korean fried chicken taco with kimchi slaw or a fish taco with chipotle lettuce and salsa—as well as one special Margarita cocktail with chilli infused with tequila.
It's happening every Thursday, but we think this just might be the best way to kick start the Easter long weekend. Don't you?
Grab your tickets to taco and margarita Thursdays here.
Bondi's Mama Saan Asian-style tapas bar is a hive of activity come lunchtime and den of festivities come evening. Known for its quirky interior that is part tiki bar and part opium den but mashed together, the brooding bar specialises in an alluring blend of Taiwanese street food and Japanese deliciousness.
It's also a great place for a date, so why not book in your table for two and sample the set five-course sharing menu with sashimi tacos and crispy fried chilli chicken as well as your choice of wine of either Paulett Rieslin, Debussy Reverie or El Desperado.
For vegetarians, a six-course sharing menu has been created featuring instead dengaku eggplant, karage cauliflower and a wild mama mushroom mix.
Reserve your table for two here.
Now, if you really want to see the good things that Beast & Co are cooking up in their kitchen, you're going to need to head along to their four-course sharing menu for two. Their modern European dishes are devastatingly tasty using only the freshest and in-season produce available.
To begin, you'll be served your choice of starter before moving onto your choice of entree between a cold cook fish or roasted cabbage. For your main, choose from the fish of the day or a flank steak (the farmer's pick for vegetarians is available) and sides of fries, duck fat potatoes or braised greens to accompany it. Dessert is Czech doughnuts served with plums, mascarpone and berries—you do remember that Beast & Co's food is inspired by the owner's two Czech grandmothers, right?
Since this is dinner for two, you will also be served a bottle of wine. Winning!
To wine and dine at Beast & Co this Easter, save your spot here. 
Binky & Co is inviting starry-eyed lovers into their pastel-coloured and French-inspired boudoir corner restaurant for a three-course dinner with a bottle of wine where hearts will flutter and romance will blossom.
To accompany the wine, you will begin your dinner feast with your choice of entree followed by a main like garlic and chilli prawns or the chicken paprikash with homemade nokedli—and 80-year old Hungarian recipe—before moving onto dessert. Yum!
For a very special evening dinner for two on either Friday or Saturday night, get your tickets here.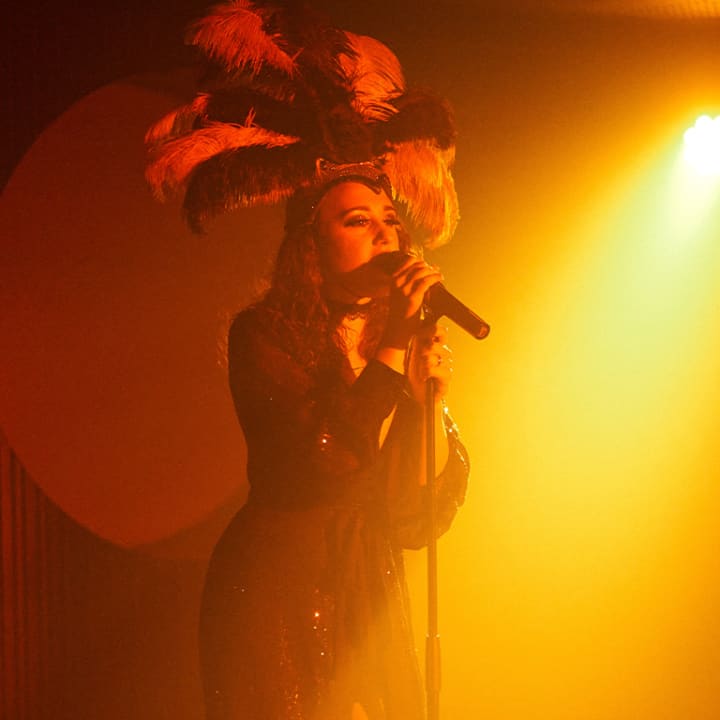 Talk and Tease Dinner Show in the Bamboozle Room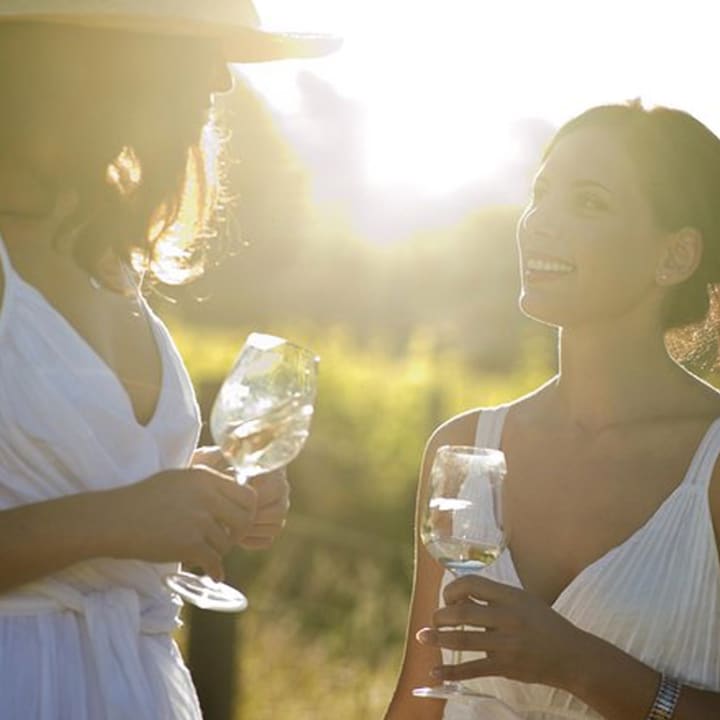 Hunter Valley Wine Tour with Lunch and 3 Cellar Door Tastings
October 7, 2023 7:20 AM

A$200.50
---